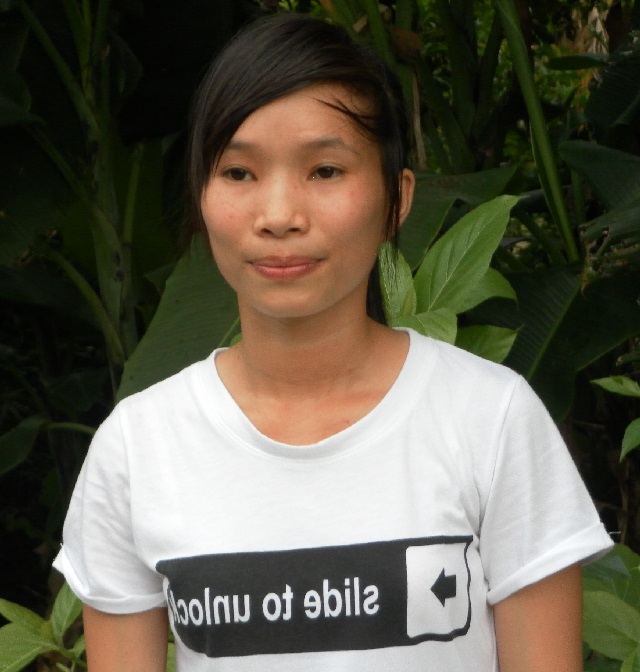 For the majority of people in Vietnam, life has never been easy. Everybody has to overcome setbacks and obstacles. And everybody needs something that ignites their passion, to find the motivation to carry on. FFAV is trying to motivate children to chase their dreams, by offering everyone the chance to play football. This is not only becoming more healthy and athletic. Football and sports in general can be a tool for personal and social development. Countless stories within our project tell of this positive outcome and Chuoi is one of those.
The story of Tran Thi Chuoi didn't start very promising for her: She came from a poor family and lived alone with her mother and her younger brother. Her mother has a mental problem, which made things even more difficult. But she enjoyed playing football more than anything. Since she joined the FFAV team at her school in 5th grade, the game gave her not only fun but also confidence for her life.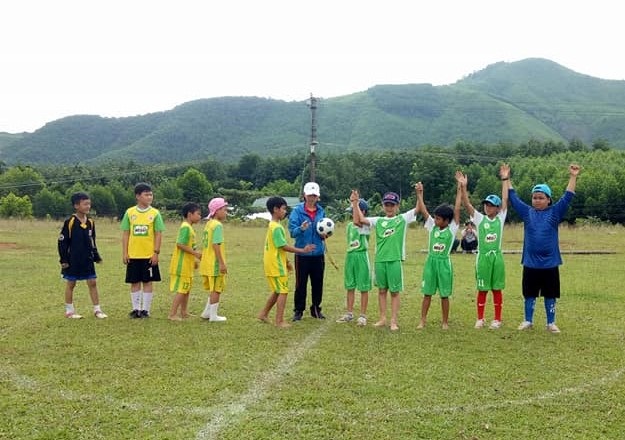 Chuoi volunteering as a referee in Nam Dong Fun Football Festival
Then, in 2009, a big typhoon hit Vietnam and destroyed their little house completely. Without the money to rebuild it, they moved in with her grandfather. The same unlucky year Chuoi also broke her leg while she was attending the football tournament for secondary school children in Quang Dien district. After that she had to stay in the hospital for more than half a month.
Seeing her problematic situation and her potential, FFAV used a "Starfish story" to motivate a fundraising among friends in Norway to help Chuoi and FFAV's cleaning lady, Ms. Xi, who suffered a near fatal heart infarct. FFAV not only supports Chuoi financially but also morally. FFAV wanted to make sure she wouldn't lose her spirit and continue her commitment to football. However that was not really necessary. Right after her recovery she returned to the training sessions. It didn't take long for her to regain her former skills and continue to develop from there on.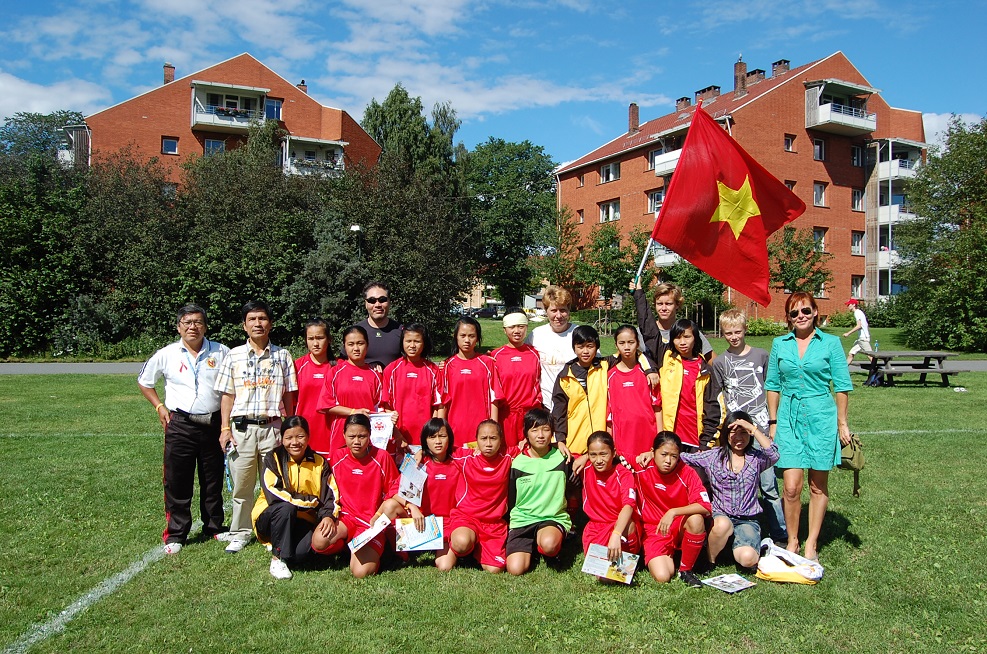 Chuoi (holding the Vietnamese flag) in the Norway Cup 2011
Chuoi's football skills and her genuine personality enabled her to join FFAV's team as a peer leader to go to the Norway Cup in 2011. Her love for football is obvious as she is planning to make it a professional career and attending the Sports College. Although she didn't pass the entry exam at first, she did not given up and took the exam again the following year, and finally her efforts was paid off and she had opportunities to chase her dream in Sports College. Seeing Chuoi's efforts and family situation, Kolstad Football Club from Trondheim took a collective responsibility towards Chuoi and have annually supported her with her education.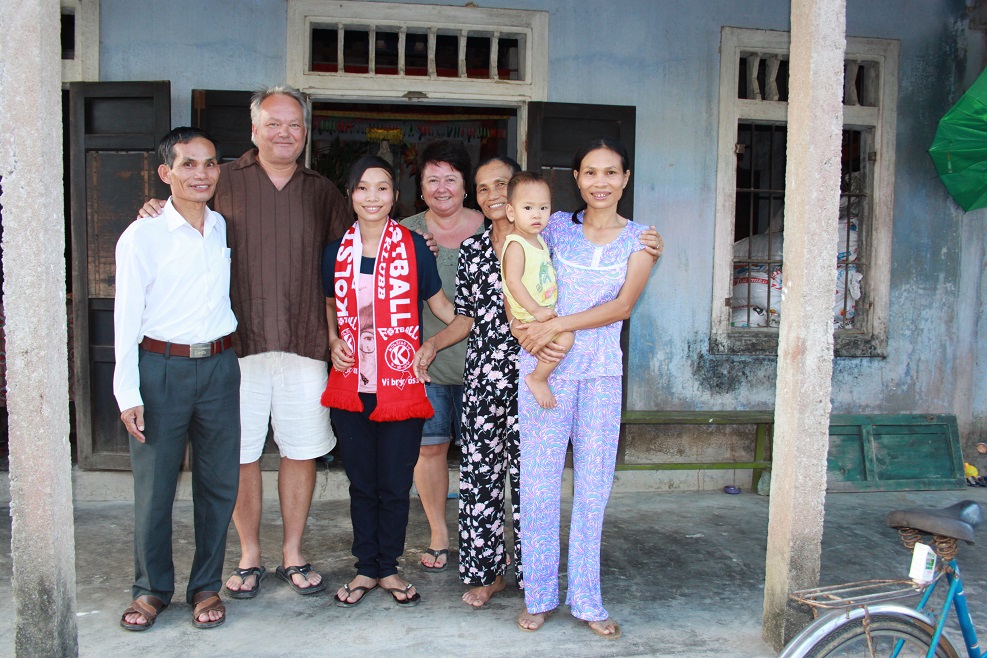 A visit from Kolstad Football Club's representatives to Chuoi and her family
In 2017, Chuoi graduated from University but it is difficult to get the job as a physical teacher, so Chuoi is now working temporarily in a Sewing factory and continue to volunteer coaching and refereeing for FFAV, with a dream to find a job that can accommodate her football passion later. To provide Chuoi with "set-up life" support, the funding from donors to Chuoi has been used to buy her a motorbike as a start-up for her new life after graduation and a means to help her pursuit her dream.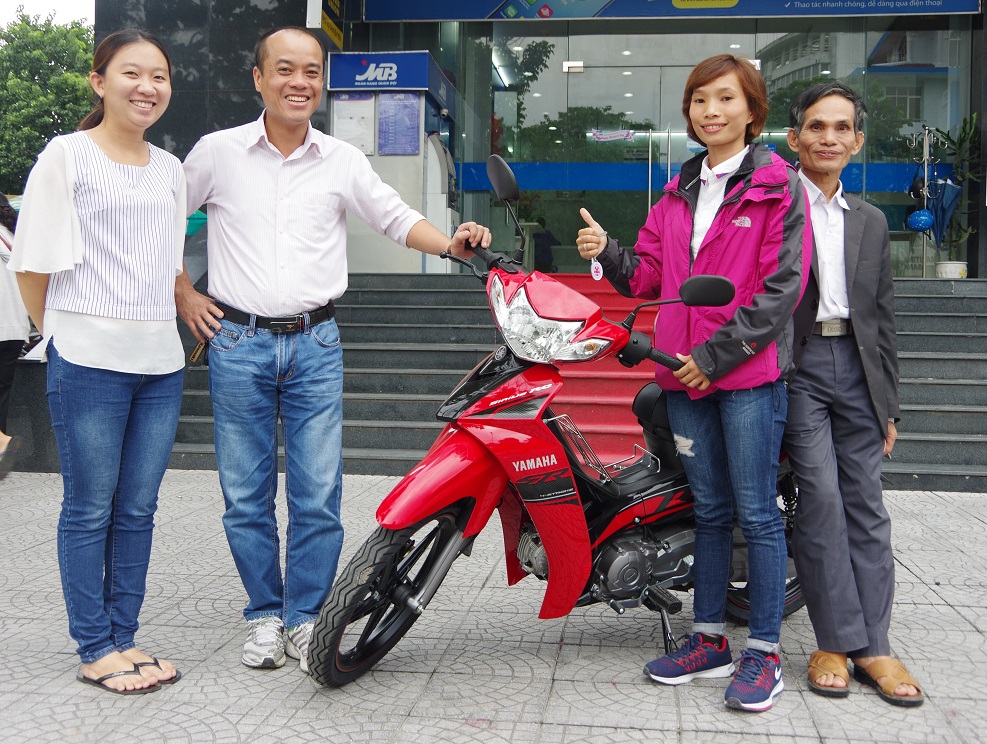 "Set-up life" support for Chuoi
People who have known her for a long time can see clearly the positive change in Chuoi's character since she first joined FFAV. She has grown strong and self-confident and has become an example for a good team player. Regardless of difficult beginnings she developed into an open-minded and mature young woman.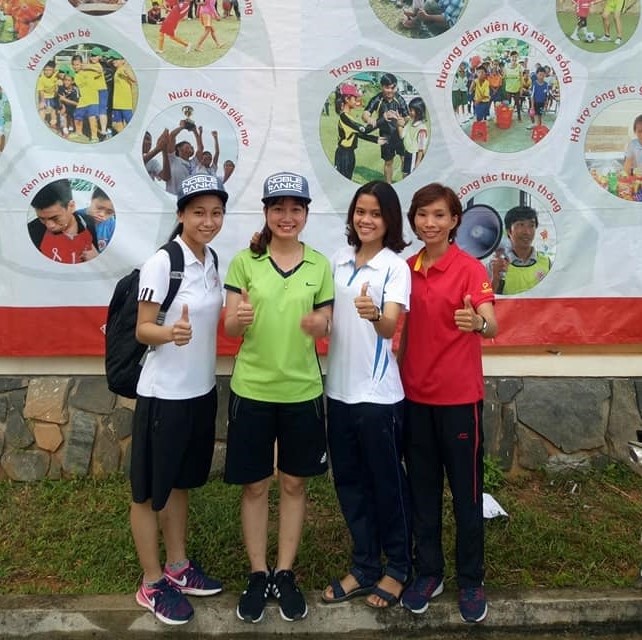 Chuoi and her friends vonlunteering in a FFAV's event
We thank all donors and especially Kolstad football club for the continuous support to Chuoi. And the story of Chuoi again affirms the meaning of the starfish story: alone one cannot save the world, but for sure one person's commitment and determination can make significant changes in people's lives. Working together, we can do even more.
………………………………….
Below is the story about the starfish:
"A man walks along a beach by the sea, and notice hundred of thousands of starfish that the sea has washed ashore during a storm. They are slowly, but surely drying out in the blistering sun. In a distance he notices a woman on the beach, bending down and picking up the starfish, one by one, and replacing them back into the sea.
He approaches her, and ask her: "Why do you do this? There are thousands, and you cannot make a difference!"
She bends down slowly, pick up another and gently places it in the cooling sea. She says quietly: "Maybe not, but it made a difference to this one."